Адрес: Strandgatan , 10900 Hangö

Wan´t to do something fun this summer? Book a fun day with your friends and try our waterskies or wakeboard.
Try something fun a book a fun watersports day full with waterskiing and wakeboarding activities with a fast going daycruiser. Our skipper will make sure that you have a fun day and will give you some advice if needed.
Book your fun day in the sun.
Показать больше
О этой деятельности
Phone number (booking)

Website
Близлежащие гостиницы/жилье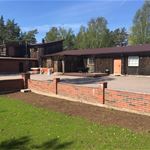 Hotelli
Расстояние: 2,3 км
A motel built in Viking-style with 30 beds in the motel and there are also two four-person cabins. The motel has shared toilets and showers. There is a nice 20-person sauna in the motel, which can be booked separately.
Hotelli
Расстояние: 937 метров
Cozy guesthouse in the center of Hanko
Boarding house
Расстояние: 18,3 км
Sjömansro is located in beautiful surroundings by the sea in Lappohja, halfway between Hanko and Tammisaari. One apartment and 7 double rooms with kitchen, toilet and shower, wifi.