Ticket: group 9 adults or more
Дата: Среда 18 сен 2019 - вторник 31 дек 2019
Показать на карте

Welcome to visit our museum all year around! For groups of 1 – 8 persons we charge a fee of 40€ and for groups above 8 persons we charge 5 euros per person. Please don´t hesitate to contact us for further information and special agreements
The agricultural museum in Finbygränd is located in Tenala in the municipality of Raseborg. The objects in the museum show farm mechanization from the beginning of the 20th century to about 1980. Here you can familiarize yourself with horse equipment, combine harvesters, tractor equipment's, tools etc. In addition, you can look into the smithy of the 1930s. Now there is also an interesting household department. Among the agricultural machines you can probably see Finland's first self-going harvester; Bolinder Munktel from 1954, Fiskars plow with which World Championship in plowing was won in 1974 in Vik Helsinki. See photos from the museum in the gallery.

The machines are in cold areas, household appliances and much more in warm space.
Показать больше
Близлежащие гостиницы/жилье
Hotelli
Расстояние: 10,9 км
Hotel Sea Front is a small family run hotel situated near the sea in a peaceful environment, only a short walk away from the center of Ekenäs. You can find restaurants, shops, the railway station as well as the summery beaches or ski tracks during the winter, close by.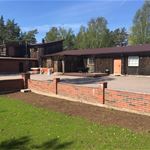 Hotelli
Расстояние: 22,3 км
A motel built in Viking-style with 30 beds in the motel and there are also two four-person cabins. The motel has shared toilets and showers. There is a nice 20-person sauna in the motel, which can be booked separately.
Boarding house
Расстояние: 10,2 км
Sjömansro is located in beautiful surroundings by the sea in Lappohja, halfway between Hanko and Tammisaari. One apartment and 7 double rooms with kitchen, toilet and shower, wifi.