Crossnature experience in the nature
Дата: Вторник 14 май 2019 - вторник 31 дек 2019
Показать на карте

CROSSNATURE experience in the nature
In crossnature we move outside in the nature Your body and the natue are your tools. Training and recreation alone, in pairs or in a group. It is good for women and men.

Look at: youtube crossnature,: https://www.youtub
When you do crossnature it´s good to have gloves and clothes that can get dirty.

Crossnature experience for 1,5 hours for a group 10 people. Price 120 euro/group.

Make a reservation for your group, if the times don´t match, contact Lotta about another time.

Info: Lotta Bruncrona, 0400-400016, bruncrona.lotta@gmail.com
Показать больше
Близлежащие гостиницы/жилье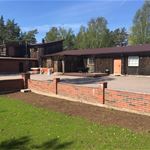 Hotelli
Расстояние: 34,2 км
A motel built in Viking-style with 30 beds in the motel and there are also two four-person cabins. The motel has shared toilets and showers. There is a nice 20-person sauna in the motel, which can be booked separately.
Boarding house
Расстояние: 19 км
Sjömansro is located in beautiful surroundings by the sea in Lappohja, halfway between Hanko and Tammisaari. One apartment and 7 double rooms with kitchen, toilet and shower, wifi.
Hotelli
Расстояние: 5,8 км
Hotel Sea Front is a small family run hotel situated near the sea in a peaceful environment, only a short walk away from the center of Ekenäs. You can find restaurants, shops, the railway station as well as the summery beaches or ski tracks during the winter, close by.