SUMMER INSPIRATION
Date: Samedi 25 mai 2019 - samedi 25 mai 2019
Voir la carte
Anna aikaa itsellesi. Lifeness – Regatta Spa Hanko on kokonaisvaltainen kahden päivän hyvinvointitapahtuma – laadukas, aktiivinen ja rentouttava irtiotto arjesta ainutlaatuisen kylpylän puitteissa, Hangon upeiden merimaisemien ympäröimänä.
Luvassa liikuntaa monissa eri muodoissa, tietoutta hyvinvoinnista, spa nautintoja sekä rentoutumista – energisoiva elämys kesän aloitukseen! Kaikki liikunta-aktiviteetit tehdään oman kunnon mukaan, joten tapahtuma sopii kaikille peruskunnon omaaville naisille ja miehille.


Tapahtuman sisältö:

Lauantai 25.5.2019

Aamukahvi
Beach Workout / Heidi Tainio
*dynaaminen ja kokonaisvaltainen kehonpainotreeni yhdistettynä kevyisiin juoksutekniikka harjoitteisiin antaa sinulle valmiin paketin omaan kesäkuntoiluun.
Lounas
Check in
Hyvinvointiluento / Suoliston kunto hyvinvoinnin perustana / Eijaliisa Koivu
Välipala – Make Your Own Smoothie
Yoga & Relax / Heidi Tainio
* lempeä ja palauttava joogaharjoitus
Spa
Illallinen

Sunnuntai 26.5.2019

Good Morning Yoga / Heidi Tainio
* Energisoiva ja herättävä aloitus aamuun (ulkona jos mahdollista)
Aamiainen
Kick & Punch / Kirsi Ehrnrooth
* itsepuolustusharjoitteita sekä avaavia lyönti- ja potkutekniikoita
Don't swim like a Tarzan -uintitekniikkaharjoituksia / Anne Hiltunen
Lounas
Spa
Lifeness Late check out



Tapahtuman hinta sisältää majoituksen kahden hengen huoneessa (sis.late check out), kaikki aktiviteetit, aamiaisbrunssin, lounaan, välipalat sekä Spa:n sisäänpääsyn. Illallinen ei sisälly osallistumismaksuun.

Ilmoittautumiset 10.5.2019 mennessä.

Tapahtuma toteutuu 12 henkilön minimiosallistujamäärällä.
Plus de détails
Hotelli
distance: 864 mètres
Cozy guesthouse in the center of Hanko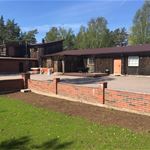 Hotelli
distance: 2,1 km
A motel built in Viking-style with 30 beds in the motel and there are also two four-person cabins. The motel has shared toilets and showers. There is a nice 20-person sauna in the motel, which can be booked separately.
Bed & Breakfast
distance: 1,1 km
Bed & Breakfast accommodation in a villa built 1904. The villa is situated in the beautiful Spa Park, 200 m from the beach, tennis courts and Hanko Casino. Villa Solgård has 16 cosy double rooms and is modernized 2015 to meet an adult taste. The villa is open from May to September.