Hanko souvenirs
Adresse: Raatihuoneentori 5, 10900 Hanko
Voir la carte
Adresse: Raatihuoneentori 5, 10900 Hanko

All lovely Hanko-products are now available online. Treat yourself or buy as a gift. T-shirts, postcards, books, Hanko-tea and our special beach towel - all from the same place. You can also surprise your friend with a gift card.
Namn och beksrivning på generellt, eng
Plus de détails
A propos de cette activité
Bed & Breakfast
distance: 1,1 km
Bed & Breakfast accommodation in a villa built 1904. The villa is situated in the beautiful Spa Park, 200 m from the beach, tennis courts and Hanko Casino. Villa Solgård has 16 cosy double rooms and is modernized 2015 to meet an adult taste. The villa is open from May to September.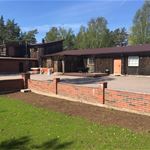 Hotelli
distance: 2,1 km
A motel built in Viking-style with 30 beds in the motel and there are also two four-person cabins. The motel has shared toilets and showers. There is a nice 20-person sauna in the motel, which can be booked separately.
Hotelli
distance: 629 mètres
Cozy guesthouse in the center of Hanko