Guided tour: "The tales of the Spa Park Villas"
Adresse: Boulevarden 1, 10900 Hangö
Voir la carte
Adresse: Boulevarden 1, 10900 Hangö

The Spa Park is a marvellous an unique chapter in the history of Hanko. The Hanko Spa was founded in 1879 and the villa quarters were developed around the same period of time. During the guided walk we make acquaintance with the spa culture from the end of the 1800 century to the early 1900 century, the architects of the villas, the residents and the life in the Spa Park in general.

Guidance in Swedish
Price: 10 euros/person
The Spa Park is a marvellous an unique chapter in the history of Hanko. The Hanko Spa was founded in 1879 and the villa quarters were developed around the same period of time. During the guided walk we make acquaintance with the spa culture from the end of the 1800 century to the early 1900 century, the architects of the villas, the residents and the life in the Spa Park in general.

Guidance in Swedish
Price: 10 euros/person
Place: Bulevardi 1
Plus de détails
A propos de cette activité
Hotelli
distance: 884 mètres
Cozy guesthouse in the center of Hanko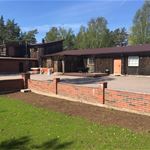 Hotelli
distance: 2 km
A motel built in Viking-style with 30 beds in the motel and there are also two four-person cabins. The motel has shared toilets and showers. There is a nice 20-person sauna in the motel, which can be booked separately.
Bed & Breakfast
distance: 982 mètres
Bed & Breakfast accommodation in a villa built 1904. The villa is situated in the beautiful Spa Park, 200 m from the beach, tennis courts and Hanko Casino. Villa Solgård has 16 cosy double rooms and is modernized 2015 to meet an adult taste. The villa is open from May to September.