Cruise to Bengtskär
Adresse: Graniittikaari, 10900 Hanko
Voir la carte
Adresse: Graniittikaari, 10900 Hanko

Being the tallest lighthouse within the Nordic countries, Bengtskär rises a majestic 52 metres above sea level. If you want to experience the magnificent view, you have to climb up 252 steps, but the view is well worth the trouble!
The lighthouse was built in 1906 and is situated about 25 kilometres south-west of Hanko. On Bengtskär there is a lighthouse museum, a home turned museum, an exhibition on the Battle of Bengtskär, a lighthouse post and a café, as well as premises for accommodation and conferences.

Cruises to Bengtskär with M/S Summersea from the Eastern Harbour Mon-Sat during 19.6-1.7, every day during 2.7-12.8, Mon-Sat during 13-25.8.
Departure from Hanko: at 11
Arrival in Bengtskär: at 12.30
Departure from Bengtskär: at 15
Arrival in Hanko: at 16.30

Price: Adults 62 euros, children (4-14 years) 25 euros including lunch, a guide and entrance fee to Bengtskär. There is a café on board. M/S Summersea can carry up to 155 passengers. Cruises are contingent on weather. Min. amount passengers: 30 persons.
Plus de détails
A propos de cette activité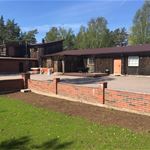 Hotelli
distance: 2,5 km
A motel built in Viking-style with 30 beds in the motel and there are also two four-person cabins. The motel has shared toilets and showers. There is a nice 20-person sauna in the motel, which can be booked separately.
Hotelli
distance: 1,1 km
Cozy guesthouse in the center of Hanko
Bed & Breakfast
distance: 1,6 km
Bed & Breakfast accommodation in a villa built 1904. The villa is situated in the beautiful Spa Park, 200 m from the beach, tennis courts and Hanko Casino. Villa Solgård has 16 cosy double rooms and is modernized 2015 to meet an adult taste. The villa is open from May to September.