Archipelago cruise
Date: Mardi 2 juil. 2019 - mardi 13 août 2019
Voir la carte
Join the archipelago cruise and visit the islands of Gustavsvärn and Hauensuoli (Pike´s Gut).
Gustavsvärn is the best kept part of a four-part larger whole of fortresses outside Hanko. The little islet contains the ruins of a fortress built by the Swedes in the late 18th century, as well as a lighthouse from 1951. The attendant's house is well kept and looked after by the Finnish Lighthouse Society, who sell souvenirs there in the summer.

Hauensuoli is a narrow strait between the islands Tullholmen and Kobben outside Tulliniemi. There are over 640 kept rock carvings on the island. "The visitor's book of the archipelago" consists of names and coats of arms of nobility, soldiers and tradesmen. The earliest ones are from the 16th century.

Cruises on Tuesdays and Saturdays during 30.6-13.8.2018. Departure from the ST1 quay in the Eastern Harbour at 14. The duration of the cruise is approx. 2 hours.

Price: Adults 25 euro, children (4-14 years) 10 euro.
Min. amount passengers: 6 persons. Cruises are contingent on weather.
Plus de détails
Hotelli
distance: 1,2 km
Cozy guesthouse in the center of Hanko
Bed & Breakfast
distance: 1,4 km
Bed & Breakfast accommodation in a villa built 1904. The villa is situated in the beautiful Spa Park, 200 m from the beach, tennis courts and Hanko Casino. Villa Solgård has 16 cosy double rooms and is modernized 2015 to meet an adult taste. The villa is open from May to September.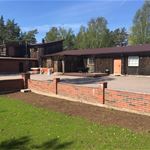 Hotelli
distance: 2,4 km
A motel built in Viking-style with 30 beds in the motel and there are also two four-person cabins. The motel has shared toilets and showers. There is a nice 20-person sauna in the motel, which can be booked separately.