Seal Safari
Date: Jeudi 25 juil. 2019 - jeudi 15 août 2019
Voir la carte
Take a trip to the outer archipelago to see the grey seals living in the Baltic Sea. There are over 12 000 grey seals and with a bit of luck you can spot one!
Seal safaris are available on Thursdays and Sundays during the 1.7-16.8.2018 season. Departure from the ST1 quay in the Eastern Harbour at 14. The duration of the cruise is approx. 2 hours.

Price: Adults 35 euro, children (4-14 years) 15 euro. Min. amount passengers: 6 persons. Cruises are contingent on weather.
Plus de détails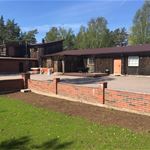 Hotelli
distance: 2,4 km
A motel built in Viking-style with 30 beds in the motel and there are also two four-person cabins. The motel has shared toilets and showers. There is a nice 20-person sauna in the motel, which can be booked separately.
Hotelli
distance: 1,2 km
Cozy guesthouse in the center of Hanko
Bed & Breakfast
distance: 1,4 km
Bed & Breakfast accommodation in a villa built 1904. The villa is situated in the beautiful Spa Park, 200 m from the beach, tennis courts and Hanko Casino. Villa Solgård has 16 cosy double rooms and is modernized 2015 to meet an adult taste. The villa is open from May to September.