Agricultural Museum in Finbygränd, ticket
Address: Prästkullavägen 944, 10600 Ekenäs
Date: Wednesday 18 sep 2019 - Tuesday 31 Dec 2019
Show map
Address: Prästkullavägen 944, 10600 Ekenäs

Agricultural Museum in Finbygränd is a tourist attraction for both adults and children. In the museum you find all kinds of farm machinery, such as horse tools, harvesters, tractors with their tools, hand tools and also a section with household items.
The museum objects show the historical mechanisation of Finnish Agriculture from 1900 to about 1980. In the museum area you can also admire an original smithy from 1930s.

In the section with household items you find all kind of objects which have been used in homes during old times, such as porcelain, household items, electrical equipment, literature, some toys and fishing/hunting tools. You find also ARABIA plates used for different purposes and over 100 ARABIA coffee cup models.

This years exhibition (2019) is about the activities of Martha organisation during its 120 years. You can see different documents, objects, literature and also a Martha-suit from 1960.


OPEN
Sundays 16.6, 14.7, 11.8 at 13:00–17:00
Access at other times for groups via this booking system or by agreement.

ENTRANCE FEE
Adults: 5 €, children under 12 years: 0 €

Other times than open days:
Group 1-8 adults: 40 €/group
Group 9 adults or more: 5 €/adult


Further information gives Kristina Karlsson, phone 040 5714427 or e-mail erikas.gard@hotmail.com.
You can also visit our home page www.lantbruksmuseetfinbygrand.fi
Show more
Book now - choose start date and product
About this activity
Phone number (booking)

Website
Hotel
Distance: 10.9 km
Hotel Sea Front is a small family run hotel situated near the sea in a peaceful environment, only a short walk away from the center of Ekenäs. You can find restaurants, shops, the railway station as well as the summery beaches or ski tracks during the winter, close by.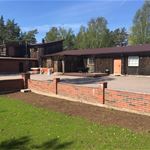 Hotel
Distance: 22.2 km
A motel built in Viking-style with 30 beds in the motel and there are also two four-person cabins. The motel has shared toilets and showers. There is a nice 20-person sauna in the motel, which can be booked separately.