Adresse: Vuorikatu 1, 10900 Hanko

Singer Osmo Ikonen is known for example from SuomiLOVE and Sunrise Avenue band. He is a truly multi-talented musician with a long solo career.
He moves fluently between musical genres and switches easely from one instrument to another. Now you have the opportunity to listen to Osmo as soloist of a Big Band consisting of top musicians.
The programme contains familiar radio hits and older classics. You will hear songs from Van Halen's Jump to Oasis' Wonderwall, as well as of course Ray Charles' and Stevie Wonder's classics, and Osmo Ikonen's own works. All this played by a Big Band – with traditional tasty Swing. The performance and the sound of the big orchestra will carry you away.

Place: Hanko Town Hall, Vuorikatu 1
Price: 30 euros/person, 25 euros/person (pensioner, jobless)
Mehr anzeigen
Bed & Breakfast
Entfernung: 1 km
Bed & Breakfast accommodation in a villa built 1904. The villa is situated in the beautiful Spa Park, 200 m from the beach, tennis courts and Hanko Casino. Villa Solgård has 16 cosy double rooms and is modernized 2015 to meet an adult taste. The villa is open from May to September.
Hotelli
Entfernung: 708 Meter
Cozy guesthouse in the center of Hanko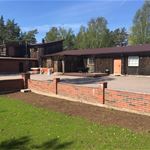 Hotelli
Entfernung: 2 km
A motel built in Viking-style with 30 beds in the motel and there are also two four-person cabins. The motel has shared toilets and showers. There is a nice 20-person sauna in the motel, which can be booked separately.