Hanko Frontmuseum - Bunker Irma
Adresse: Hangöuddsvägen 1625, 10820 Hangö
Karte anzeigen
Adresse: Hangöuddsvägen 1625, 10820 Hangö

The renewed museum presents the history of the Hanko Front during the years 1939 to 1941, when Hanko peninsula was occupied by the Soviet Union.
Frontmuseum is open:
31.3-13.5 Saturday-Sunday at 12-17
19.5-2.9 daily at 11-18
8.9-16.12 Saturday-Sunday at 12-17

Irma bunker is open:
2.6-2.9 Saturday-Sunday at 12-16

Tickets to the museum:
8 euros/person, 5 euros/person for students and pensioner.

Ticket to the museum and to the Irma bunker:
14 euros/person, 8 euros/person for students and pensioner.

Free entry for war veterans and war widowers, draftees and for children under age 16.
Mehr anzeigen
Über diese Aktivität
Telefonnummer Reservierung
Bed & Breakfast
Entfernung: 17 km
Bed & Breakfast accommodation in a villa built 1904. The villa is situated in the beautiful Spa Park, 200 m from the beach, tennis courts and Hanko Casino. Villa Solgård has 16 cosy double rooms and is modernized 2015 to meet an adult taste. The villa is open from May to September.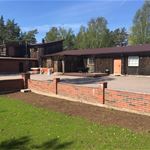 Hotelli
Entfernung: 16,1 km
A motel built in Viking-style with 30 beds in the motel and there are also two four-person cabins. The motel has shared toilets and showers. There is a nice 20-person sauna in the motel, which can be booked separately.